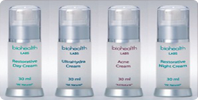 "Health & Beauty, Naturally" is the way we live our lives here at Biohealth Labs. We take pride in providing the best quality natural Beauty products in the world. They are designed with the best ingredients that we source from all around the world.
We make sure that the right products are picked from the very start. Our raw material sourcing department is constantly on the move to bring exceptional items into our facilities where the magic starts.
First, our scientists perfect the formula using state of the art equipment. From there we move into production, producing small consistent batches. We monitor the quality at every step of the production process. Our unsurpassed meticulous methods allow us to blend the right proportion of ingredients -ultimately giving you the best feel, and of course, the best results.
All of our products are rigorously tested to meet the strictest quality control standards. When you purchase a Biohealth Labs product, you can be sure that what you are using is at the highest echelon of quality.
We stand by the quality of everything we produce at Biohealth Labs. There are many trends that will come and go in the beauty market. Ultimately, one thing is for sure -natural is here to stay.
Come explore Beauty the natural way, the Biohealth way.
Biohealth Labs / Beauty Division